ONE Flagpoles Perth manufacture, and install a range of flagpoles including tapered and non-tapered aluminum flagpoles that are ideal for installation in commercial and residential applications.
ONE Flagpoles are available from 6m-12m, and are manufactured from high quality marine grade aluminium, with an anodised or powder coated.
THE RANGE
The ONE Garden Master Flagpole perfect for residential properties, sports clubs and building/development sites is a 6m, 60mm non-tappered flagpole with external halyard.
EXTERNAL HALYARD FLAGPOLES  – available from 6m – 7.5m as a 80mm tapered flagpoles. A cost effective solution ideally suited to areas where security is not a factor.
INTERNAL HALYARD FLAGPOLES  – 80mm tapered flagpoles available form 6m – 7.5m, perfect for public areas.
LARGE FLAGPOLES – 100mm tapered flagpoles available from 6m to 12m with internal or external Halyard systems. (* 6m Flagpoles are cyclone rated).
Want to DO IT YOURSELF?  ONE Flagpoles can be supplied in kit form with easy to follow DIY instructions.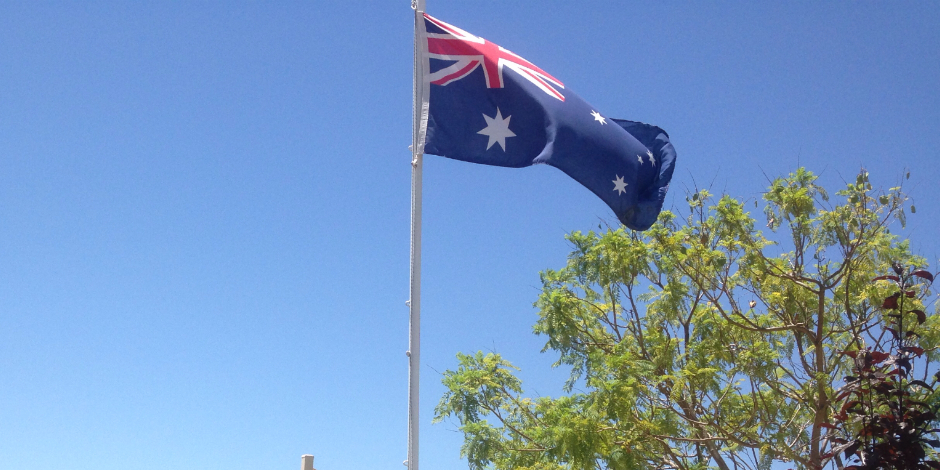 Flagpole client testimonial – Jennifer Neal, Parmelia WA
To whom it may concern

Yesterday I made a phone call to "oneshadesails" in the slim hope that you may have a winder for internal halyard flagpole.

Tom checked for me and informed me that there was one. He most generously delivered the winder to our school today.

We were delighted that Tom did this for us and now our ANZAC Observance can go ahead on Thursday morning smoothly.

 We are very grateful for the extra effort he put in to make this happen.

When we are in need of shadeshades in the future we will make every effort to pass the business your way . "One good turn deserves another."

Once again thank you so much for your help.

Kind regards

Jennifer Neal

Deputy Principal

North Parmelia Primary School