06 Jun

Four Reasons To Invest In Custom Shade Sails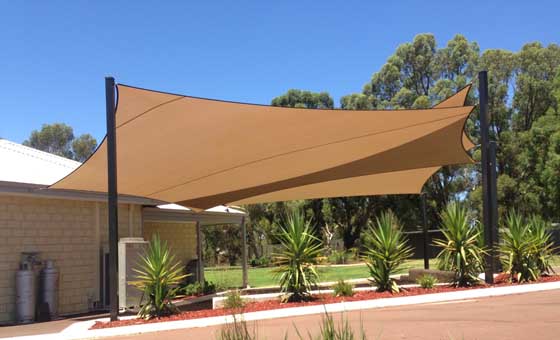 With extreme Weather conditions, and the harsh West Australian Sun it may be time to consider investing in a custom, designed and manufactured shade sail.   Custom shade sails are the perfect addition to your outdoor space, offering more benefits than simply shading an area.
ONE Shade Sails Based in Perth Western Australia are a one stop shop for all your shade sail requirements.  All aspects of each project are completed in house from the design phase through to the final installation.  Our purpose-built sail fabrication loft equipment with computer controlled cutting machine (CNC) enables us to provide the most accurate shade sails in Perth.
1 Protection from the Elements
Shade sails will protect you and your family from the sun with up to 99% UV Protection. Wind tunnels and strong winds are something we all have to deal with in Perth, but don't let it keep you from using your outdoor space.  ONE shade sails can design a sail to solve these issues by deflecting the wind over your outdoor entertaining area.
Perth enjoys great weather all year round, but it does rain! Protect your outdoor furniture, vehicle or entertaining area with a waterproof shade sail.  Even regular shade fabric will provide 70% rain protection if design correctly.
2 UVR Protection
The biggest concern when enjoying Perth's amazing climate is sun burn.   With UV radiation being the primary cause of skin cancer, investing in shade should be at the top of everyone's list.   Not all shade sails are equal.  All fabrics used by ONE Shade sails have been selected based on our strict criteria of protection and durability.  Some of the heaviest and most durable sails have poor UV protection properties, meaning they are great for large public car parks but not so appropriate for shading a playground or you back yard pool. Investing in a custom shade sail with a reputable company like ONE Shade will ensure you get a fabric that is most suited to the applications and is designed to provide shade where you want it and when you want it.
3 Create a visually appealing outdoor living area.
We often have clients who are trying to decide if they want to use a patio ort a shade sail for their outdoor living area.  The best advice I can give is that a shade sail will be around the same price as a standardised patio, but if designed well will look much more expensive and visually appealing.   ONE Shade Sails can design a sail to suit almost any area, your imagination is really the limit when it comes to tensioned fabric designs.
4 Reduce your heating and cooling costs
By shading close to a building shade sails reduce heat from the sun on the side or roof of your home, in turn allowing air conditioners to work more eg=affectively and for shorter periods.  In winter shade sails can easily be removed allowing light and heat into the house.
Shade sails really are one of the most versatile products and a great investment for your business or home.