03 Apr

Nine Commercial Umbrellas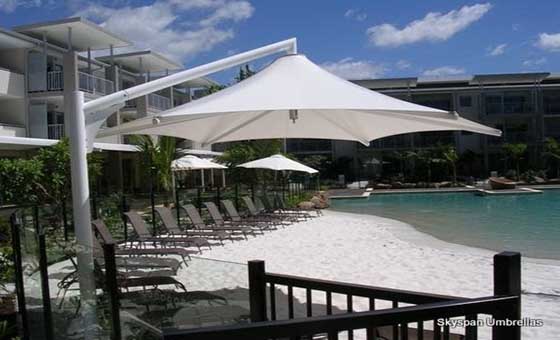 For the ultimate shade solution, you simply cannot beat outdoor umbrellas. Lightweight, flexible and durable, outdoor umbrellas are also incredibly cost effective. No wonder that they are widely used across commercial locations all over Australia.
ONE Shade Sails offer a wide range of commercial umbrellas, which can be used across different applications. This article will show case our top nine umbrellas for ultimate shade
Portable umbrellas
Portable umbrellas
The portable range of commercial umbrellas offered by ONE Shade Sails Perth, are lightweight and easy to handle. Designed to be easily removable from above-ground base plates and in-ground sockets, these umbrellas are commonly used in outdoor table settings. They are lightweight, yet are durable enough to withstand wind speed of up to 60 kph. Designed for low maintenance, portable umbrellas are translucent, UV treated and heat reflective.
Horizon umbrellas
Horizon umbrellas are a range of non-retractable commercial umbrellas which are square in shape. Suitable for use in centre columns, these umbrellas can tolerate the harshest of outdoor conditions. They can even withstand wind speeds of up to 120 kph. These low maintenance umbrellas are UV treated and reflect heat. Horizon umbrellas come coupled with a structured aluminium and stainless steel membrane.
Sunset umbrellas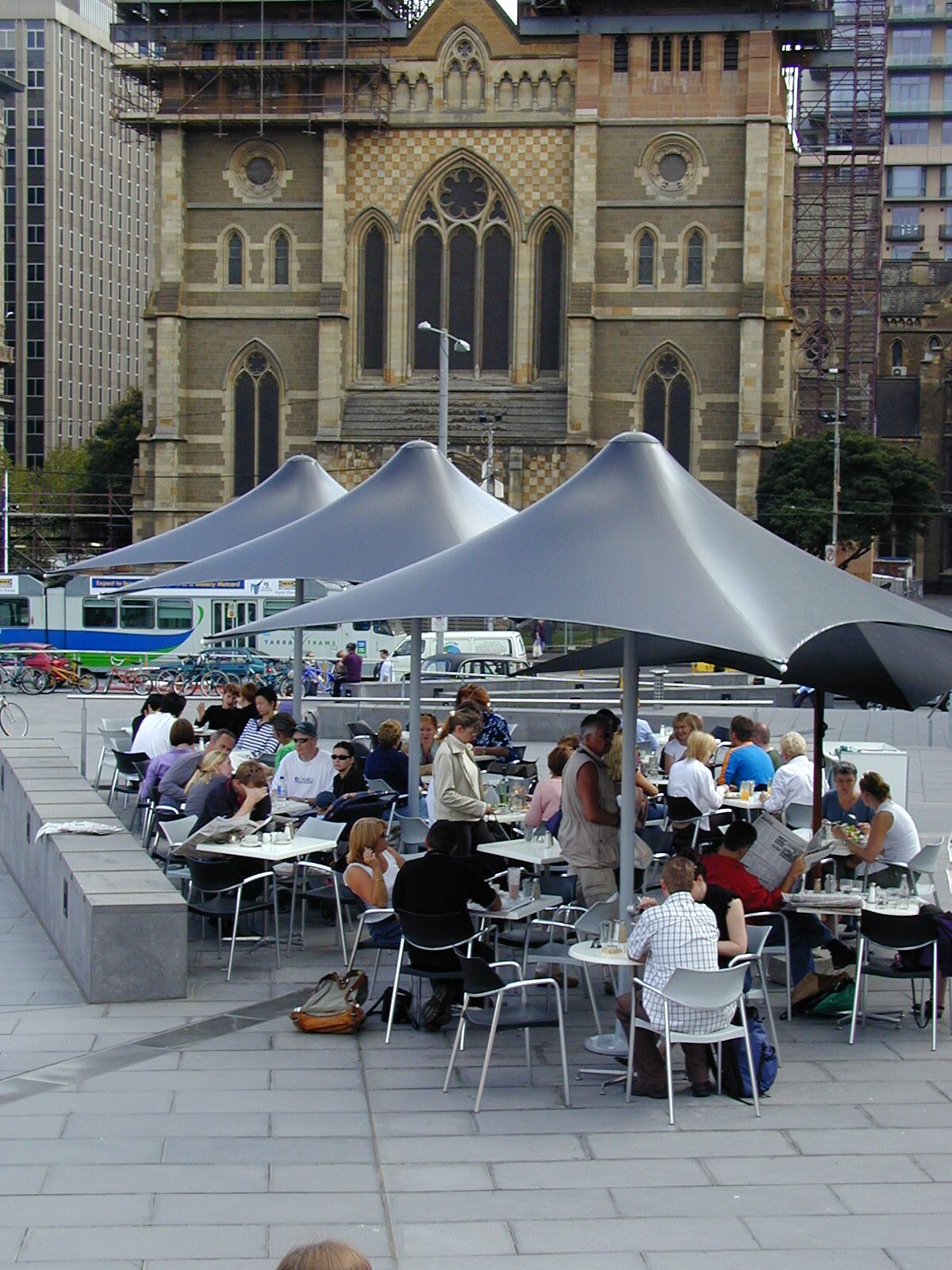 Sunset umbrellas are manufactured to the highest standards of quality and are elegant, durable and strong. These fully retractable commercial umbrellas are available in square, rectangular and hexagonal shapes. Widely used across cafes, resorts and hotels, they feature a solid aluminium frame construction and can be retracted with ease. Sunset umbrellas are UV-treated, heat reflective, require low maintenance and can withstand wind speeds of up to 118 kph. They are an ideal commercial umbrella for a variety of applications.
Typhoon umbrellas
Typhoon umbrellas are an incredibly popular commercial. They have been designed to withstand wind speeds of up to 148 kph and therefore, are most commonly used in open public spaces and coastal resorts. Featuring industry leading structural properties and a solid 10 year guarantee, they are perfect for wind prone environments. These marine grade umbrellas are translucent, UV-treated, heat reflective and need little maintenance.
Vista umbrellas
Our Vista umbrellas are designed to maximise the open area under the canopy. These retractable commercial umbrellas can pivot 360 degrees and can easily cover more than one area. Made of structural grade galvanised steel, these fully welded umbrellas reflect heat and are UV treated. Vista umbrellas can withstand wind speeds of up to 112 kph.
Panorama umbrellas
Specially designed to include clear drop curtains, our Panorama umbrellas provide the ultimate outdoor experience in all seasons. These commercial umbrellas can incorporate a gutter system for water flow, making them highly functional. Available in gazebo, centre column and cantilever styles, they are able to withstand wind speeds of up to 148 kph.
Custom hypar umbrellas
Our custom Hypar umbrellas are a special variant of a classic outdoor umbrella. These non-retractable umbrellas rest on 4 columns and are available in a standard square shape. Used commercially across shopping centres, public spaces and commercial precincts, they built to withstand wind speeds of up to 148 kph. Furthermore, they can be custom designed to meet specific shade requirements.
Alternate column hypar umbrellas
Ideal for public spaces, alternate column Hypar umbrellas are designed for continuous connection, making them a popular walkway covering. As opposed to resting on a centre column, these type of Hypar umbrellas rest on an alternate column. They are non-retractable and can also withstand wind speeds of up to 148 kph. Like our custom Hypar umbrellas, these commercial umbrellas can be customised to meet specific requirements.
Centre column hypar umbrellas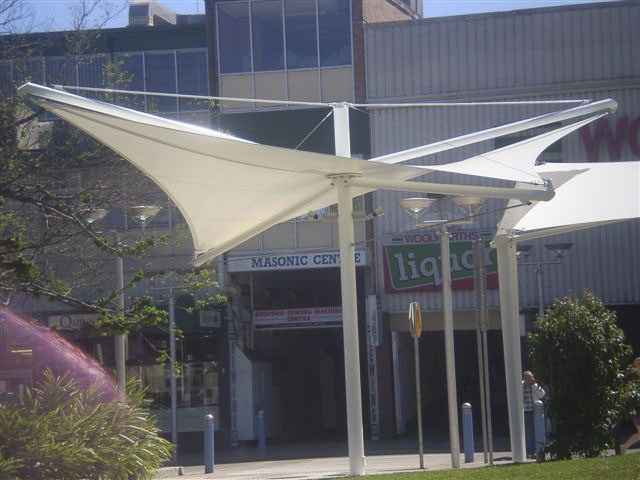 Designed to rest on a fixed centre column, this form of Hypar umbrella is hugely popular with designers and architects. Engineered to withstand wind speeds of up to 148 kph, centre column hypar umbrellas demonstrate fine quality on all fittings and materials used. These non-retractable commercial umbrellas can be custom tailored to suit your needs.
Conclusion:
If you're looking to provide the ultimate shade solution in your commercial space, consider one of our commercial umbrellas. We various models available which include portable umbrellas, horizon umbrellas, sunset umbrellas, typhoon umbrellas, vista umbrellas, panorama umbrellas, custom hypar umbrellas, alternate column hypar umbrellas and centre column hypar umbrellas. All these umbrellas are designed to suit different purposes, so take your time to consider your requirements before choosing an outdoor umbrella for your needs.
At ONE Shade Sails, we have been providing various shade solution products to clients across Western Australia for the last 10 years.
If you're in doubt about which type of umbrella is best for you, get in contact